Mixing nutrients is an essential part to all hydroponic growing systems.  Plants require nutrients to grow.  Hydroponic systems are designed to ensure maximum nutrient uptake.  Use this guide to mix your nutrients correctly every time!  Mixing nutrients in your reservoir is easy – follow the pictures if you are confused.

Start with reverse osmosis water if you can.  I use one gallon jugs to fill water and mix nutrients.  Growers with bigger reservoirs will want to use a 5 gallon bucket to mix nutrients.  Make sure the container you use is food grade.
Get a clean measurement tool like a cylinder. Read the label of your nutrients to determine the measurement of nutrients you need per gallon.  If you are using a five gallon bucket make sure to multiply by 5.  I like to start with half of what the bottle recommends to ensure I don't burn my plants.  Pour your high grade organic nutrients into the measurement tool to make sure you have the correct amount.
Make sure you double check your nutrient measure.  It is good to know the amount of nutrients used and at what time in the plant's life cycle.  Jotting down quick notes of these metrics and their results can leave you with valuable information for your next crop.  Grow logs are an essential tool in building a better growing environment.
Line up your measurement device with the lip of your container and pour your nutrients in slowly.  If you tilt the cylinder too much you may overshoot your container.  If you spill some the measurement you took is now wrong.  The loss will not affect your grow in a severe manner, but it is nice to have close to accurate measurements.   Even if you are trying to achieve 100% efficiency you are unlikely to do so.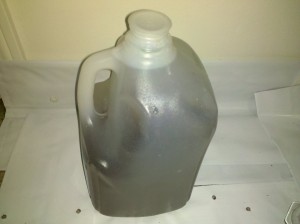 Cap the container and shake the nutrients until they are well mixed.
Related Posts :